Generate more revenue with selling the products of other vendors!
Dropshipping service for webshops and wholesale sellers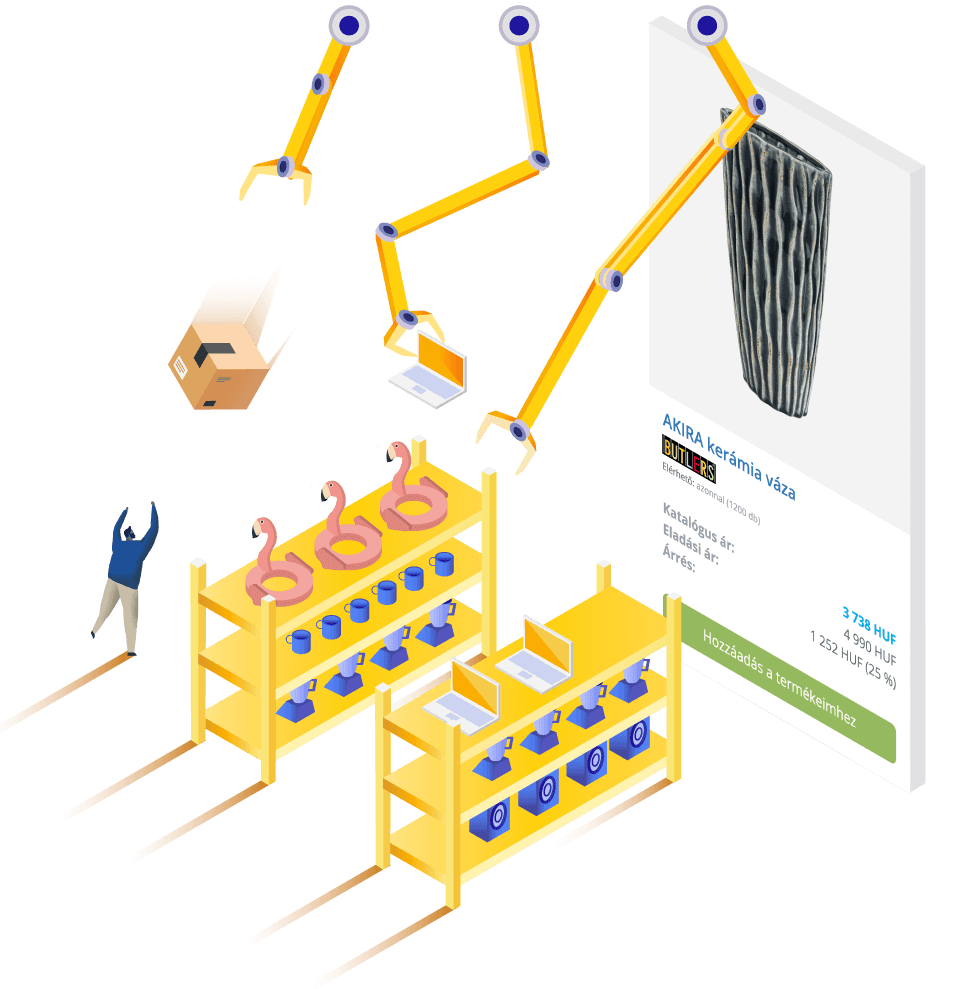 Thousands of products, established brands, next day shipping all over Europe
Dropshippy offers an incredibly easy method for dropshipping: you can boost your own supply with only a few clicks. Even better, the buyers get their orders by the next day, since we ship them directly from our warehouse in Budapest. You get the products for their wholesale price, Webshippy takes care of the packing, and the shipping cost is extra low. All you need to do is to come up with new, interesting ideas while browsing the Dropshippy catalogue, and synch any of the listed products into your own webshop – in a matter of seconds.
Are you interested in the products on offer? Register now, with zero commitment.
How does Dropshippy work?
Step 1
Install the Dropshippy App into your existing webshop
Step 2
Browse the catalogue and choose the products you want to sell
Step 3
Synch the products into your own webshop with a single click
Step 4
Pay for the wholesale price of the products within the system, easily
Step 5
We pack and ship the products to the buyers, possibly with Same Day Delivery
Build up your stock instantly
Dropshippy is way more than a simple dropshipping catalogue: our 2000 square meter Budapest warehouse is continuously resupplied with products of our wholesale retail partners. Stock availability information is refreshed every second in the application that works together smoothly with your webshop engine, and can be imported into your webshop.
For Starters and Experienced Pros alike
Dropshipping usually involves slow shipping, packaging beyond your control, no C.O.D. handling and a lack of reliable supply sources… Dropshippy elevates the whole experience to a new level, with next day delivery and C.O.D. handling. Whether you just start your first adventure in e-commerce, or are a hardened professional looking for more supply options, dropshipping can help you boost your conversion and basket value.
An infinitely expanding dropshipping marketplace
Pick the best from the ever-expanding selection of thousands of products offered by hundreds of retailers. Choose the items that match the taste of your target group perfectly. Synch them to your webshop with a few clicks.
Automated product- and stock synching with your webshop
You never need to upload products one by one again, resizing images, thinking about copy. Your webshop engine can import any product from the Dropshippy catalogue, complete with photos and product descriptions. However, you can edit and rewrite anything to suit your own style and buyers a bit better.
Product acquisition, payments and invoices, all in one
You can see your dropshipping orders summarized, and you can easily acquire every product needed to fulfill them from within the system. You can download the wholesale invoices anytime, and initiate the transfer with a credit card, or compensate the cost from the incoming C.O.D payments.
Next Day Delivery, everywhere in the country
Our Budapest warehouse and the fully fledged logistics system makes it possible for your buyers to get the products by the next day. Webshippy provides all this for a comfortably low price, including packaging, shipping and optional C.O.D. handling.
"It was incredible. We made our products available in the Dropshippy catalogue and within a couple of weeks, several other webshops have been able to sell some of them in their own stores."
Launch your dropshipping webshop today!
We lead you through the process step by step and you can quickly start browsing in the catalogue!
Become a dropshipping supplier!
Are you making or selling products? Would you like others to sell these products?