Revolutionize the order fulfillment capabilities of your own warehouse
Logistics hardware-software solutions for webshops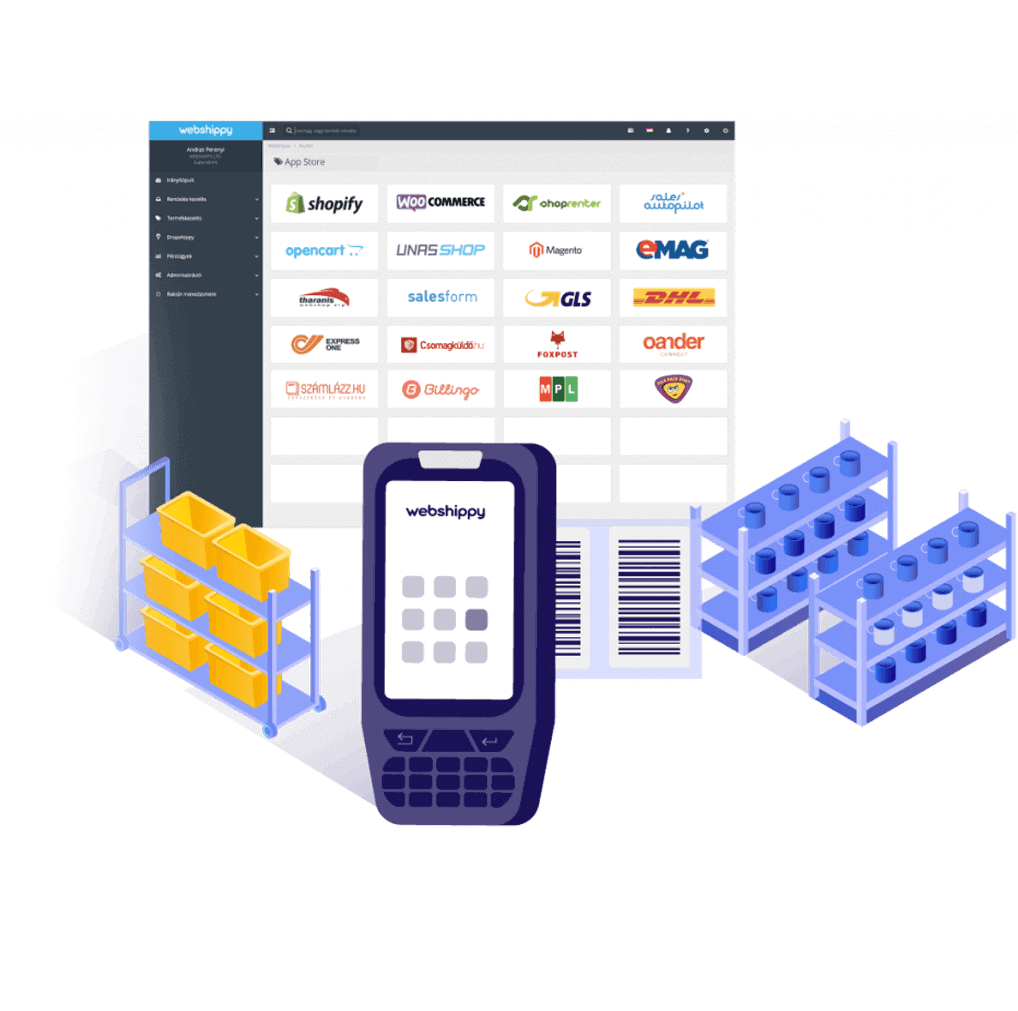 A system that automates, simplifies and enhances the fulfillment of your webshop orders
You can enjoy the benefits of a highly innovative fulfillment system in your own warehouse, too! Webshippy Elements enables you to operate your online business just like it was a professional fulfillment center. You can minimize the margin for error and multiply the speed of the order handling process, making your business more effective than ever before. Webshippy Elements connects to your webshop, your online invoicing service and to the system used by your shipping partner –  in a matter of seconds.
"Dog food is a special case. Outsourcing fulfillment is not an option for us, because the size of our packages is huge and there are a lot of special requests. We needed to keep our logistics in-house. But Webshippy Elements made it possible for us to build and enjoy the professional system they use in their own fulfillment center."
Any number of integrations, one platform. Use any webshop engine, invoicing software, courier, the Webshippy Elements API connections and plugins allow you to connect every system and synch the data automatically.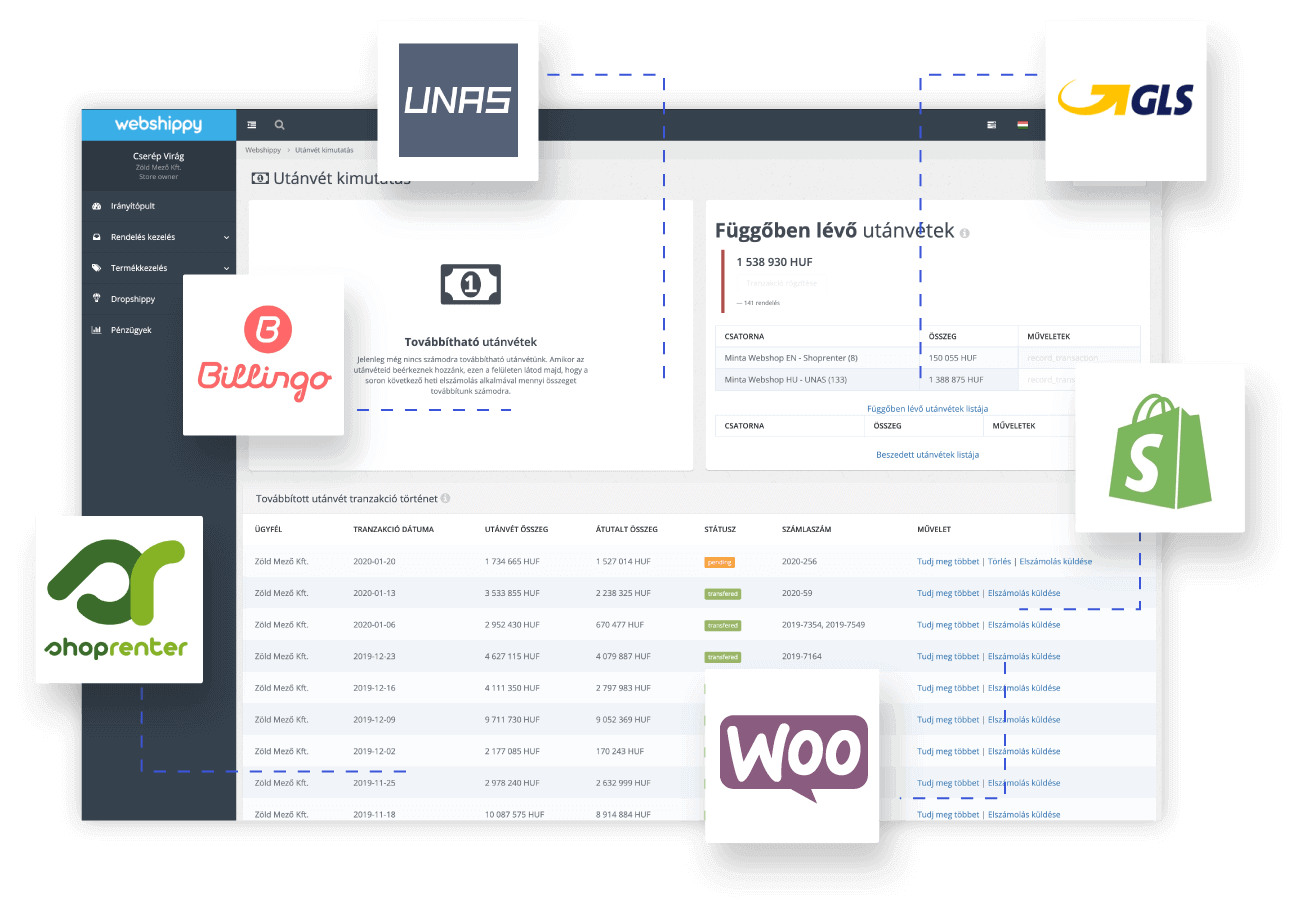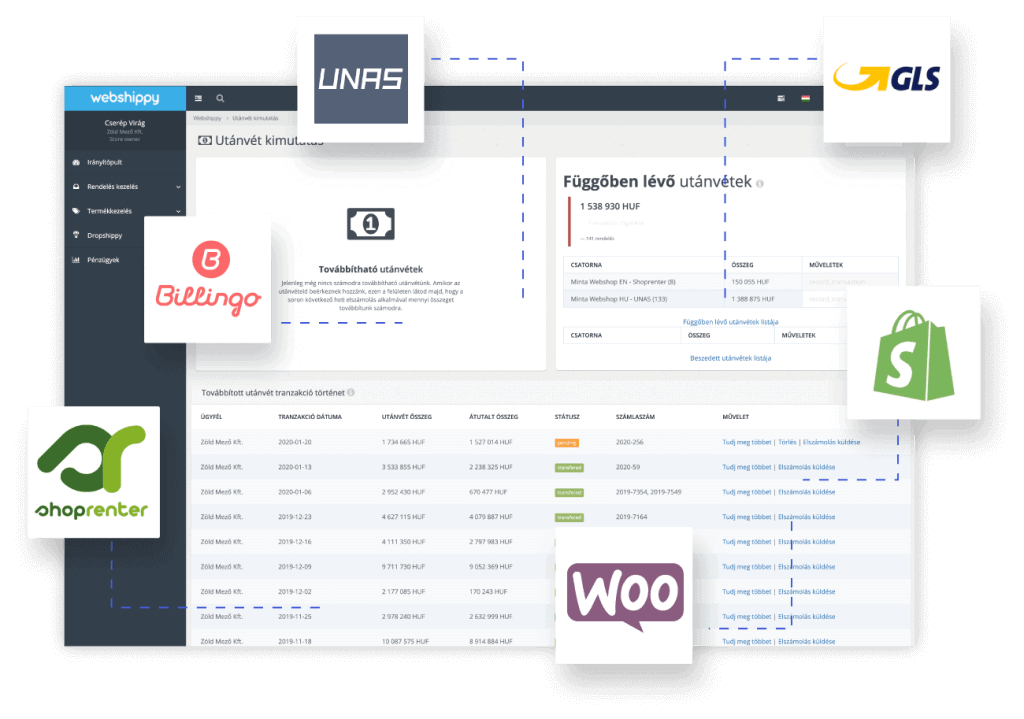 Orders and Financial Data
Package Status and Tracking Codes
Payment Status and C.O.D.
Find anything in storage, instantly
You don't need to remember where each product is. The heart and soul of Elements is a barcode-based product ID and location system, so the software always knows exactly where everything is, at any time. The optimal picking route is chosen by the algorithm. Picking the right products for every order is guarranteed.
Pack the orders error-free, cut out unnecessary work phases
Packaging is guided by the software, so making an error is virtually impossible. You can merge together several manual work phases. You can generate courier labels and print buyer invoices with a single click, right at the moment of package closure.
Webshippy Elements helps your business scale up flexibly. You can add or remove components any time.
You can create new storage locations and packaging stations with a few clicks. No major reorganization required when you throw in some more capacity.
Integrated handling of orders, even from multiple online stores

Non-Stop status tracking

Automated courier label and invoice printing

Handling multiple courier partners at once

Understanding physical and virtual products

Handling special tasks per order

Packaging Ruleset
Special Quality-of-Life functions
Elements makes the preparation of special care packages a breeze. It's easy and intuitive.
Packaging Rules
You want to add a gift into certain packages? You can create macro rules, defining conditions to trigger certain actions during packaging.
Product Packages
Elements identifies every product from combined product packages, and checks the process by each product.
Delaying
The buyer requests a later delivery? You can set any date with this function for packing and shipping.
Set Manual or Automatic Order Handling
You can set every sales channel to trigger Automatic or Manual order fulfillment.
Webshippy created the most innovative oursourced logistics system for online stores.
See it in action, without any commitments
Would you like to see Webshippy Elements in action? Take a guided tour in our Budapest logistics center and you can get to know all the nitty-gritty details!