Order fulfillment is handled by an automated, robotic system at the warehouse of Webshippy. However, this is far from the only way artificial intelligence can be put at the service of e-commerce! In this article, we will set the basics straight so that you can navigate confidently in the sea of catch-phrases without a university degree in programming. We'll also outline the different ways a savvy web trader can use AI.  
We'll start at ground zero but then move along quickly. 
The commercial use of artificial intelligence in today's terms means that with the help of a software solution we process a sizeable amount of data quickly while making partially or entirely automated decisions. Algorithms assist in making these decisions by finding the next solution through probability calculation methods.
We all use similar processes on a daily basis.

The order our search results appear in Google is determined by algorithms. This same software selects the ads that pop up on our Youtube homepage, and what's more, they put together our Facebook feed for us to see the most attractive posts.

There are some key terms used in artificial intelligence. Let's take a quick look at the ones you're likely to be bumping into often.
Key concepts in artificial intelligence
Machine Learning

Machine learning enables computers to learn on their own, without programming, and to be able to dynamically apply this knowledge. 
Machine learning relies on algorithms that recognize patterns in datasets and make predictions based on these patterns. You've surely seen these types of solutions in marketing campaigns, for instance. Ads are super pertinent nowadays because the online data on the viewer's profile (such as what they've looked at recently) all assist in the process of setting up a pattern. Based on the decisions of other, similar users, they are able to find potentially relevant ads for them.  
Machine learning typically consists of three steps:
extracting information from a dataset;

analyzing this information to find patterns,

identifying certain elements within a pattern– such as numbers, words, sounds – that lead to precise predictions within the same pattern or other elements within other patterns.
It's important to note that machine learning is not merely about predicting the needs or interests of a person. It can also be used as a tool to understand the nature of any complex system. Such as to analyze the effects of a new medicine during clinical trials, or to detect how the water-retention capacity of soil changes due to human intervention. 
It is certainly true in commerce that the better understanding companies have of the behavior and preferences of their customers, the more their products and services can be personalized.

Robotic Process Automation (RPA)


RPA (robotic process automation) essentially replaces office workers for executing repetitive and large volumes of tasks. These robots are able to learn and execute work by imitating human employees' digital activity. 
You can entirely robotize any kind of repetitive task in your job, following a very short training process! E-traders have indeed lots of repetitive tasks, such as updating different charts, invoicing, uploading product descriptions … and the list goes on till the cows come home. Robot software can become an indispensable co-worker at your company.
Natural Language Processing (NLP)


During natural language processing a software processes text into an analyzable, normalized format. After a while, the algorithms recognize what text to use in each situation. You'll understand it easily in practice: 
Speech-to-Text: converting audio spoken language to written text
Analyzing emotions: identifying users' positive or negative attitudes towards something 
Answering questions: automatic detection of questions and giving appropriate answers
Now that we've covered the basics, let's take a look at how e-commerce companies use AI today and in the near future.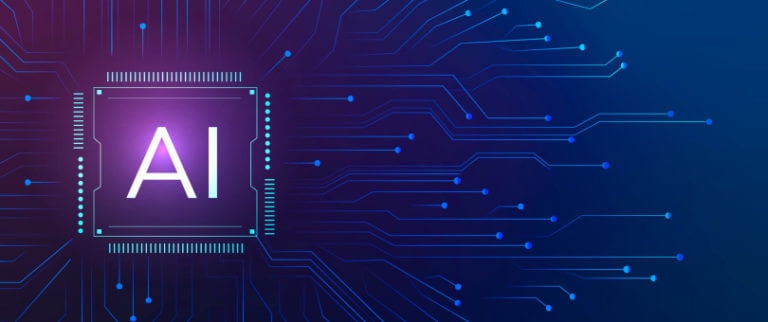 Artificial Intelligence in e-commerce
Chatbots


Chatbots using artificial intelligence are so much more practical and efficient than their old-school versions. In the old days, you could only get to a certain point with them before getting stuck. If the conversation diverged even just slightly from the script that the operator created for them, they stalled.
AI chatbots on the other hand, learn from what they hear from customers and react accordingly. They know human psychology and are able to 'read' a customer – for example, notice if he or she is being ironic or frustrated. What's more, they even have a different way of responding to new customers than to old ones. This is what the power of NLP algorithms lies in: chatbots can share their own experiences with other chatbots and become smarter in terms of finding the most effective answer in a given context.
Predictive Analytics

Predictive analytics can help e-commerce businesses figure out what product will be popular with customers, based on, let's say, the sales results of the last two weeks or one month. Behavior-based advertising works exactly the same way by presenting the types of products that the user has shown interest in (put in a basket or clicked on, searched for etc.).
AI can help better understand the compatibility between products. This discovery can even lead to common landing pages to help the customer by addressing their identified needs as a bundle offer. And in commercial terms, this is already considered upselling.
Product recommendations


Amazon claims that cross-selling accounts for the tune of 35 percent of their overall yearly revenue. Without a doubt, Amazon's AI- based, real-time product recommendation engine is the "secret sauce" for the company, just like the search algorithm is for Google.  
The basis of all artificial intelligence technology is that a tremendous amount of data – even more than a few years ago – is at our fingertips: shopping history, searches, lifestyle choices, demographic attributes. These all have the potential to influence our buying habits. Decision tree type models ("in this case, this is what follows) are not able to compete with algorithms above a certain complexity, which make decisions based on intricate patterns.
Consumer-behavior data sets can be used for e-mail campaigns to target buyers more efficiently, resulting in higher sales and a better shopping experience. And better retention leads to an increase in sales. 
It may take a while to learn how artificial intelligence can be put to use in e-commerce, therefore, it's advisable to start little, with only a couple of changes every business without expertise in programming or data analysis can quickly put in place. The first step, for instance, can be an up-to-date chatbot: we can generate excellent data to build on while also boosting trust in our brand. 
Robotics in logistics
We've proudly announced recently that our very own team of robots have started their work at our warehouses and the automated activity is on par with the world's leading logistics' centers. Robots move the shelves: they are rolled closer to the pickers at the moment of an incoming order which makes the service process so much faster, smoother and more efficient.
But there's so much more to it! Robots work the fastest if the item on order is already the closest possible to their packaging stations. This is closely monitored and targeted: the placement of shelves is not determined by human workers, but by the robots who set up the most convenient locations for quick accessibility for the pickers, by carefully analyzing the growing data on incoming orders. 
These processes are characterized by our robots as "optimal order wave-combination", associative analysis, or supervision-free grouping. There's no need to dive into what this means exactly right now, the key is that warehouse lay-outs are getting closer and closer to optimal:

The artificial intelligence operating the robots identifies the most frequently ordered products based on order data sets, and organizes the shelf systems in the entire warehouse accordingly. Source: Geek+
AI technology is gaining a foothold in all industries, including e-commerce in its heyday. From chatbots through data-driven ads and personalized shopping experience, AI technology has revolutionized buyers' online shopping experience, and this trend is only going to be ever more present and popular in digital commerce.  
If you'd like to learn more about introducing artificial intelligence in your own marketing strategy or stepping into the 21st century with your warehouse, write to us!   
We love to work with like-minded clients, sharing our passion in creativity and innovation. Artificial intelligence is an amazing way to give your marketing strategy the push it needs while giving you the opportunity to experiment with new things.