Outsource your logistics and focus on growth
Fulfillment service for webshops and online sales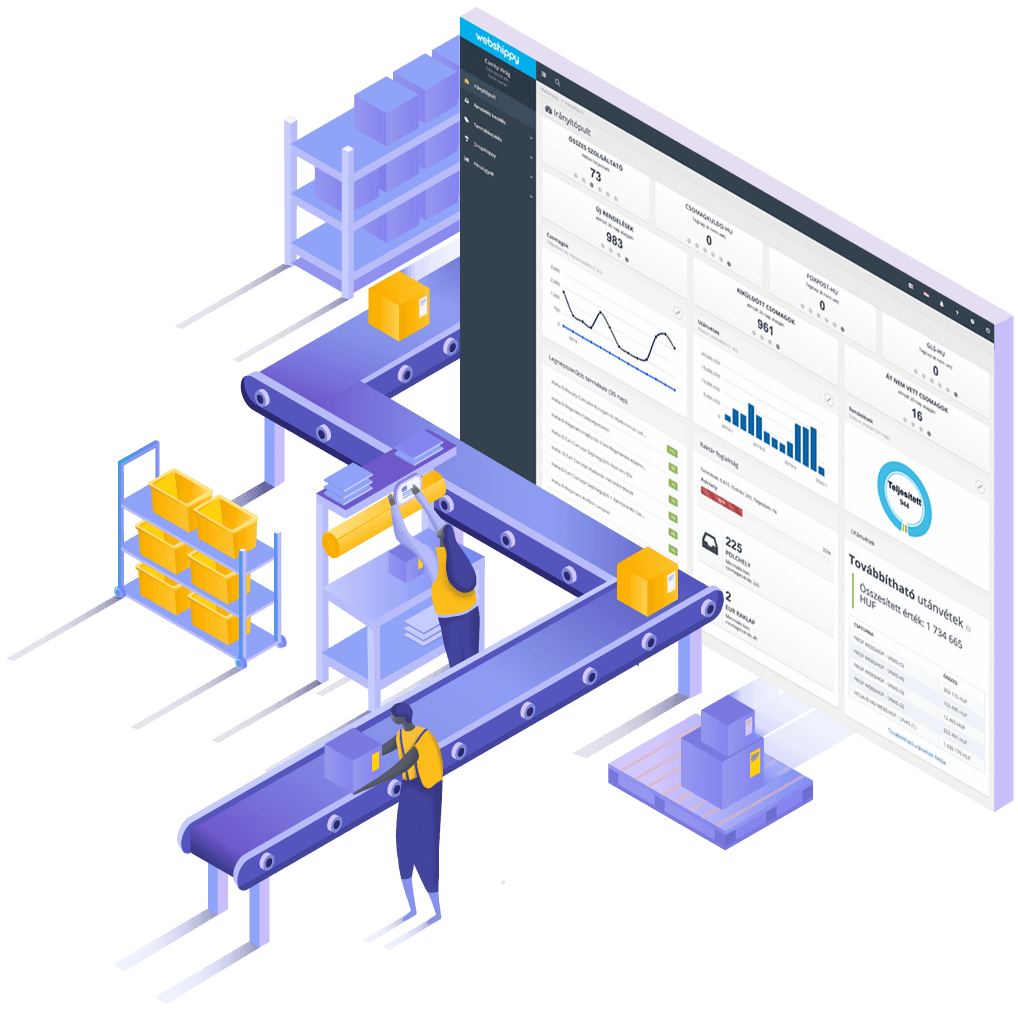 INNOVATION AND AUTOMATION IS AT THE HEART OF OUR OPERATION
Cutting Edge E-Commerce Warehouse Logistics
Our Logistics Centre operates on several thousand square meters of floor space, guided by our own WMS system, which creates fast, automated and error-free order fulfillment.
Digitalized Warehouse Processes
The Webshippy Fulfillment Center is unique in its category: every single process is controlled digitally and tracked realtime. Would you like to see our epic Control Panel? Drop by and see it for yourself!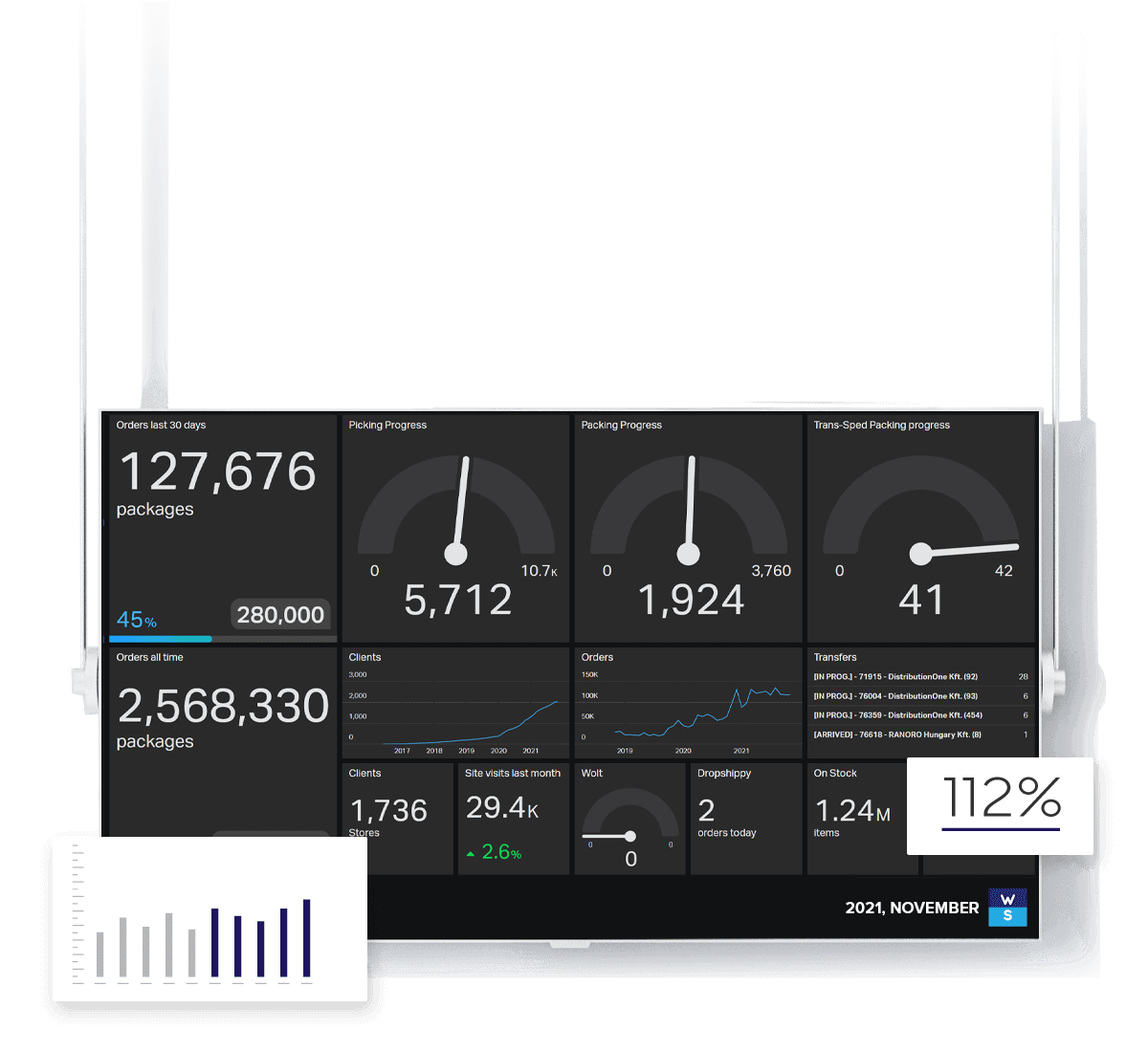 Optimal Shelving for Every Special Need
The shelf system is organized by chaos theory. Every shelf-section has a barcode, the shortest route to and from it is chosen by the AI.
100% Paper Free Shipping In, Picking and Packing
We achieved zero printed paper consumption in our warehouse operations, making the processes quicker, more accurate, and environmentally friendly.
Packing Processes With Software Support
Products, of course, are infinitely diverse. This means that packing itself will always require manual labor in the foreseeable future. But it is still controlled and supported by high tech solutions, making it an easy to learn, scalable and error-free method for our colleagues working in the warehouse.
Every Product With a Fitting Package
We designed a corrugated cardboard box system, optimized for simplified, fast and secure packaging, with the lowest possible raw material requirement. This provides a whole new level of safety and aesthetics for the typical e-commerce delivery package.
'Webshippy is great help, because they take the shipping, order fulfillment and logistics tasks from our shoulders. Everyone who runs a webshop knows how many working hours you need to pour into this, and how complex it is. Webshippy constantly innovates for making this easier for all of us.'
'Webshippy takes off most of the administrative burden from our shoulders while fulfilling our online orders, helping us to optimize our international logistics costs. They've got a superbly professional team, who are very flexible. No matter what we ask, they provide a solution in the shortest time possible.'
Protecting your products is our number one priority. We know that the stock is most valuable asset of an e-commerce project and we do everything in order to acquire your trust in the complete fulfillment system we offer.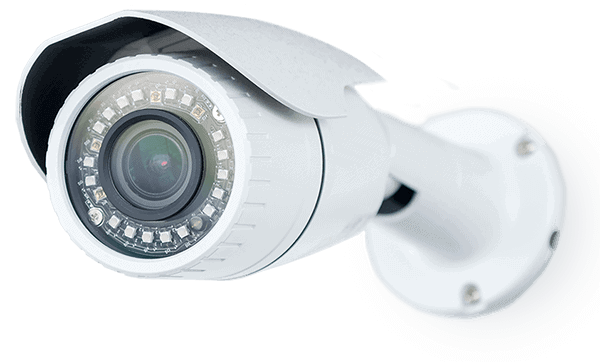 Video Recording of The Whole Shipping In, Packing and Delivery Transfer Process
Magnet Card Entry System
Your Full Stock is Covered by Insurance
Smart Fire Extinguishing System
Would you like to improve your own warehouse?
Webshippy Elements enables you to install and utilize the most innovative e-commerce logistics solutions on-site. Higher efficiency, smarter order fulfillment, in your own warehouse. Get to know our custom made solutions: